Dr. Y. Lakshman Kumar
(YLK) is an M.Com, M.B.A, EMC from C.M.C – Canada and also a Ph.D.
Dr. Y. Lakshman Kumar (YLK) is an M.Com, M.B.A, EMC from C.M.C – Canada and also a Ph.D. His experience spans over 30 years in Sales Management, Brand Management, Marketing, Teaching, Training, Consulting, Placements, Academics, Examinations and Institution building.
He has been part of well-known universities/colleges in India in various capacities and has successfully launched innovative PG and UG level programs. From humble beginnings as a lecturer to leading a university as the Pro Vice Chancellor, Dr. YLK has vast experience in the academic arena. He has been part of the prestigious technology & management institutes of India as a visiting faculty. His industry experience includes sales and marketing positions with Indian conglomerates like MDPL and TTK, for almost a decade.
Dr.YLK has published papers and cases in reputed journals and reviewed various Marketing Books, including Marketing Management by Philip Kotler. As a member of GSE team he has visited Philippines, Singapore and Malaysia to study best practices at various Business Schools. His visit to Canada was a success, forging strategic tie-ups on invitation from CMC, Canada.
He has conducted various Management Development Programs for over 1,000 executives, focused in the area of Marketing, Sales Management and Brand Management. He has successfully conducted several MDP's/EDP programs for Senior Executives at various public sector enterprises like BHEL, HAL, Bharat Electronics, BEML, LIC, Goa Shipyard, Hindustan Shipyard limited, Garden Reach Shipbuilders, India Post along with other and private organizations.
Given his area of interest, Dr. YLK has been a distinguished and prominent speaker at many organizations in India, on Marketing and Entrepreneurship.
His accomplishments include:
Best Professor Award 2015, for Marketing by Dewang Mehta Foundation
50 Innovative Leaders in Education Award 2019 by World Congress
Received an Award for Best Business School in Telangana 2019 from Honorable Vice President, M. Venkaiah Naidu, for his former organization.
---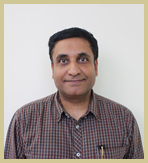 Mr. Kirron Bindu
Assistant Professor & Director International Relations
Mr. Kirron Bindu has domain expertise in Finance. His areas of interest is Financial Derivatives and Risk Management. Starting in 1995 Kirron has experience in Accounting and Auditing areas too. Kirron has over 12 years of teaching experience in some of the best schools in Bangalore. Valuation is another area of passion, in the recent past he has valued companies and natural resources like mines for interest groups in the social activism sphere. He has experience in analyzing the social cost of PPP and raising pertinent questions before the Regulatory authorities in the areas of civil aviation and electric utility companies. He is involved in training executives in IFRS. He is a partner in an investment advisory firm called Mentes Capital where he provides both investment and trading calls to interested subscribers for various investment packages. He is a mentor at leading accelerator called Kyron. He likes reading anything on finance and follows global financial markets keenly.
---
Ms. Kavitha Madhusudan
Director Admissions
Mrs.Kavitha Madhusudan is a seasoned professional with over 19 years of experience in the field of institutional branding, strategy, student recruitment. Mrs. Madhusudan has had a longer stint of career with Acharya Group of Institutions and has held various administrative positions including that of Director, Admissions for over 14 years. Mrs. Madusudan has also served as Deputy Director, Admissions at Alliance University and is currently serving as Director, Admissions at ISBR Group of Institutions.
---
Mr. R. Gopalakrishnan
Campus Manager
R. Gopalakrishnan is an Air Veteran who is a Post Graduate - M. Com., (Business Administration) who has served in Indian Air Force from 07th October 1980 to 31st October 2000. He takes care of General Administration, Infrastructural requirements, Hostels, Travel Desk, Student's Discipline, Students Support, Food arrangement for Students and emergency medical needs.

R. Gopalakrishnan is the Convenor of Anti Ragging Committee and is a Member of Campus Disciplinary Committee and is Single Point of Contact for Parents.
---
Dr. Nila A Chotai
Director - Executive Academics
Department of Executive Education
ISBR Business School Electronic City,
Bangalore- 560100
Dr. Nila A Chotai Progressive record in the academic domain with over 16 years of experience in teaching at the higher education sector. Distinguished record of publication in academic journals. Strong philosophy of teaching, and knowledge of many different methods to motivate students to develop their expertise in specific areas. A dedicated partner to institutional programs and outreach events that help promote learning and support the community. She holds a Master of Arts in Economics from Pondicherry University followed by MBA and PGDHRM as other post-graduation degree. She was awarded with PhD in Economics from University of Mysore in 2013.

She has worked in reputed Management Institutions and Autonomous University. Her core area of interest is in Economics & HR. She has been a core committee member in accreditation process at management institutions for NAAC, NBA & IACBE. She has conducted sessions for German Industry Partners and Indian Plywood Industries Research &Training Institute. She has Co-authored a book in Marketing Management. She has a rich experience in developing curriculum and planning the academic calendar. She is a Guest Editor for Scopus Journal Empirical Economics letter.
---
Dr. Balagouda S. Patil
MA (Eco), MBA, M.Phil, Ph.D.
Dr. Patil comes with more than two decades of teaching, research and consulting experience in the field of economics and management. He has spent considerable time in the areas of economics and management research having policy implications. He started his career as Research Assistant and worked closely with eminent economists at research institutes of repute where he was part of many funded and sponsored research projects by national and international funding agencies such as IDPAD Netherlands, Ford Foundation, Asian Development Bank, Govt. of India, Various Ministries of State Governments and Local bodies. The Research Institutes he was associated include Centre for Multi-Disciplinary Development Research (CMDR) Dharwad, Institute for Social and Economic Change (ISEC), Bangalore and engaged in policy research. He moved to teaching profession and served at various capacities including Professor, Director of reputed B-Schools. He has conducted several workshops, conferences and professional enrichment programs for working executives both in private and public sectors at various levels. He is member of Editorial team of many peer reviewed journals and has published several research papers in reputed national and international journals.

Presently, he is working as Professor and Registrar at ISBR, Bangalore. He is member of many professional bodies such as Decision Science Institute-USA, Indian Economic Association, Society of Economics and Development, Indian Health Economics and Policy Association, Indian Society for Labour Economics. He has guided many research scholars leading to Doctoral degree. He is proud alumni of IIM Ahmadabad and was visiting Professor at Mzumbe University, Tanzania till recently.