---
Dr. Savitri Jayant G
Professor & HoD – Human Resources & General
Dr. Savitri has completed Ph.D. in Management Studies from Department of Commerce and Management Studies, Andhra University, Master of Business Administration, MHRM and M.A. (Psychology) from Andhra University, Bachelor of Arts in Office Management, Psychology & English Literature from St. Joseph's College for Women. She has been awarded with certificate in recognition of successful completion of "Training of Trainers in Entrepreneurship Development", organized by National Institute for Micro, Small and Medium Enterprises, sponsored by Ministry of MSME, Government of India.

She has participated and presented 5 research papers in National and International conferences and 3 research papers published in National and International Paper Publications. Won first prize for the paper entitled "CSR – A Key Driver to Employee Motivation" in the seminar on "CSR- Various Dimensions" organized by CMT Business School, Visakhapatnam. Dr. Savitri has been recognized as Research Guide of Andhra University for the M.Phil. and Ph.D. scholars. She is also a panel Corporate Trainer since 2009 for the public sector company NTPC Ltd- Simhadri Plant. Dr. Savitri has played a key role in the initiation and effective conduct of various social responsibility activities and events and community services in her previous organization.
---
Dr. Karpagam T
Associate Professor & HoD Operations & Supply Chain Management
Dr. Karpagam is a seasoned academician and a specialist in the area of Supply Chain Management and Analytics. Her research area spans from supply chain management to marketing with special emphasis on sustainable supply chain, humanitarian supply chain, O2O supply chain, green supply chain, FSCM, the sandwich strategy for brand equity.

She holds Master in Business Administration from Anna University. She earned her Ph.D. during the year 2012 in Supply Chain Management from Anna University. Expert in teaching operations and Supply chain Management.

Her areas of interest include Sales & Distribution, Last Mile Delivery, Manufacturing Technologies, Operations Strategy, Production Planning & Control, Sourcing & Supply Chain Management.

Published papers in various international journals. She runs various YouTube channel for Excel, MS-Project, Tableau and Power BI.

She is also a trainer in the areas of Supply Chain Analytics and Data Visualization.
---
Dr. K S Lakshmi
Associate Professor & HoD Marketing & International
Dr. K.S. Lakshmi has around 20 years of teaching, research and training experience. She has taught mainly marketing, advertising, and other related subjects for BBM, B. Tech. and MBA courses. Her core area of interest is in Marketing, she has also taught HR papers and Ethics and Indian Values. She has been involved in preparation of the documentation for the certification from NAAC and ISO audits. She has undertaken activities that contribute to establish a new institution. She has been in research activities for a private research firm and had taken up summer internship programs, has organized FDPs and seminars. She was actively involved in student related activities like outreach activities, outbound training etc. and has extensively use case teaching as a pedagogy. She had presented papers in various conferences, journals and published a chapter in a book. She has attended many workshops on topics of current interest.
---
Dr. Raghavi Bhujang
Associate Professor & HoD – Information
Dr Raghavi is Ph.D. in Computer Science from Jain University, Master of Computer Application from Bharathidasan University and Bachelor of Science from Bangalore University. Her total years of experience is 18 which includes corporate experience of 9 years and 9 years in teaching. She has expertise in training corporate and academia in management and IT related subjects.

Her research publications counts to 13 in number. "Impact of CTP2 during Software Development Process" Accepted in 3rd International Conference on Smart Computing & Informatics (SCI-2018). Proceedings will be published in the SPRINGER - SIST series and submitted to ISI Proceedings, EI-Compendex, DBLP, SCOPUS, Google Scholar and Springer link for indexing., "Propagation of Risk across the phases of Software Development" 2018, 2nd International Conference on I-SMAC (IoT in Social, mobile, Analytics and Cloud), Palladam, India, Electronic ISBN:978-1-5386-1442-6, DVD ISBN: 978-1-5386-1441-9, Print on Demand(PoD) ISBN: 978-1-5386-1443-3 to name a few. Dr. Raghavi has received "Research in Education Award" from Indian Education Awards team of Techprolabz in association with IIT Patna, in April 2019. She got selected as Honorary Associate Editor in Computer Science stream for International Journal of Contemporary Research in Engineering, Science & Management (ISJCRESM), Chennai for two years from 2016. Received recognition form the client as the "Best Reviewer" of requirements documents and also the "Best Test Case Developer" that involved analyzing and writing test standards and procedures followed up with the test cases that involved all the possibilities of failures of the project to be tested. (IBM Global Services - with Zurich North America Client)
---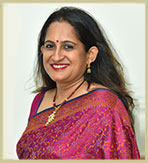 Ms. Sheetal Mahendher, MCA, M.Phil, MBA, (PhD)
Associate Professor & HoD – Quantitative Techniques & Analytics
Have around 20 years of experience in Academia and Industry. A total of more than 30 papers presented at International and National conferences and published in journals. Have completed advanced course in Analytics. Have experience in developing curriculum and planning the academic calendar. Areas of Interest in teaching - Quantitative techniques, Operations Research, Analytics. Have special interest in Research and analysis.
---
Mr. Suresh Raju
Head Training & Transformation
Mr. Suresh Raju is the Head of Training and Transformation at ISBR Business School. He is a Post Graduate with Master of Science in Counselling and Psychotherapy from Kuvempu University and has a Master of Labour Management with specialization in HR from Madurai Kamaraj University. He is a certified Emotional Intelligence Coach Certification from Darwin Nelson, USA, He is a Master Practitioner of Neuro Linguistic Programing (NLP), Certified in Cognitive Behaviour Therapy from NIMHANS, Post Graduate Diploma in Sales and Marketing – NIS Sparta (SPIN Technique), Certified TA-101 in Transactional Analysis and has a Mission impossible Leadership Program Certification.

Mr. Suresh is a passionate trainer in Leadership, Management, Sales and Soft Skills. He has trained corporates in India and Middle East. He is also a proclaimed trainer and resource facilitator for Motivational Trainings for the students in collage and schools. He has been a resource facilitator for the UNICEF project for Karnataka State Police Department and Karnataka Health Promotion Trust project representing US-AID and TB Alert. He is the founder of Cope Café – an initiative of Perhance Technologies – which aims at counselling, coaching and training the youth to empower themselves and become self-reliant, ensure to create happy society through happy people. Prior to this he has served as the Head of L & D and HR for iSol Group Companies, and had been a Counsellor at Vishwas Society for Mental Health for over a decade.
---
Dr. Jhansi Rani
Associate Professor – Human Resource & General Management
Dr. M.R. Jhansi Rani is working as Associate Professor in ISBR Business School, Bangalore. She Teaches HRM core and specialized papers. She has 11 years of combined experience in academics and research. Dr. Jhansi had also been acted as HR Consulting Officer as corporate recruiter for several reputed organizations. She has contributed around 23 papers for several renounced national and international journals. She also participated and presented papers in various national and international seminars, conferences, workshops and faculty & management development programs and also acted as resource person.

She acted as a reviewer in various national and International journals such as Arabian Journal of Business and Management, Journal of Global Economics, International Journal of Management and Economic Sciences & Journal of Political Sciences and Public Affairs. She is an approved MBA and PGDM internship/project guide for several management institutions and universities. She is also serving as External Examiner & Scrutinizer for many management institutions and universities. Her forefront objective is to enrich and establish herself as corporate trainer.

Courses Taught/Specialization: Dr. M.R. Jhansi Rani has been taught variety of courses in management studies such as "Human Resource Management, Human resource Planning, Performance Management, Compensation Administration, Change Management, Global HRM, Business Ethics and Organizational behaviour" in different reputed institutions and universities. She is a core academician and practitioner in the areas of OB & HRM.
---
Ms. Veena Shenoy
Assistant Professor – Human Resource
Mrs. Veena Shenoy, Assistant Professor, ISBR B School, has 12 years of rich experience in Industry and academia.

She is pursuing her Phd from National Institute of Technology Karnataka (NITK) Surathkal Mangalore. Completed M.Com from Pune University with Gold medal and stood first rank in the University of Pune and also Post Graduate in Master of Business Administration (M.B.A), Post Graduate Diploma in Industrial Relations and Personnel Management from Alagappa University. She has presented and published more than 32 papers in national and international conferences and journals.

Co-authored Book with Dr. Chetan Bajaj and Nandini Bajaj – "Introduction to Rural Marketing. Publisher – New Age International Publisher, with ISBN NO- 97893-86070-95-1 Accolades:
&nbsp&nbsp&nbsp&nbsp 1. Gold Medal from University of Pune for securing highest marks in M.Com Examination held.
&nbsp&nbsp&nbsp&nbsp 2. Highly commended Paper award for paper presented at IFIM Convergence 2016 for the paper "Cloud learning in the Indian education system"

Area of Interest: Behavioural Science, Human Resources Management, Managerial Research Methods.
---
Ms. Navita
Assistant Professor – Finance cum Academic Coordinator
Teaching Area: Finance & Marketing

Overview: An enthusiastic research scholar with ~4 years of experience in lectureship and Research in India and abroad. Worked in banking sector in area of Portfolio Management. Passionate to work in the field of education and areas of research in Management studies.

Educational Qualification: PhD (Pursuing), MBA in Finance & Marketing, B. Pharm

Teaching: Financial accounting
---
Ms. Punitha S
Assistant Professor – Human Resources cum Academic Coordinator
Overview: MBA in HR and Finance with 2 years of work experience in IT Training Institute as Technology Consultant and in Recruitment

Teaching Area: Post-graduate

Education Details: MBA in HR and Finance

Teaching Subjects: Training and Development, Human Resource Management
---
Ms. Jain Paul
Ms. Jain Paul
Dynamic research analyst with knowledge and exposure in best market research, analysis and consulting practices for government and corporates across different sectors. Have 2 years of experience in client centric real data approach and market analysis for different corporates across various sectors to strategize their business. Under taken several corporate market research projects and presented the reports. Worked as academic associate with IIM Kozhikode. Worked as research associate with AnalyZ Research Solutions pvt ltd (merged as ISBR AnalyZ now). Actively involved in generating business by direct client meetings. Together, handling a team of data collectors and field supervisors and maintaining continuous liaison with client to meet their requirements. Post graduate in MBA specialized in Marketing and Finance under Bangalore university in the year 2013-2015.Graduated in BBA from the University of Calicut in the year 2009-2012.
---
Dr. T K Vijay Kumar
Associate Professor
T K Vijay Kumar started his career as sales executive, Blue Star. Worked as Marketing Head of both public and private sectors in different verticals like consumer electronics, automobiles, FMCG. He was the first marketing head of public sector banks. Served as CEO of DCM Shriram for six years. He has been working as a visiting faculty of prime business schools in Pune, Hyderabad, Mumbai and Bangalore
---
Mr. Shiva Prakash
Assistant Professor
Shiva Prakash, Alumni of Jamnalal Bajaj Institute of Management Studies Mumbai (MMM), is an Advertising Professional with varied experience across industry and academia. Industry experience is from the Advertising Agency for over 40 years and Academia as Visiting Faculty across many B-Schools for over a decade.Currently promoter of a start-up Advertising and Brand Communications Company- THINK TANK IMC.
---
Ms. Roshny Unnikrishnan
Assistant Professor
She is currently pursuing Doctoral Programme from Vishweshwarayya Technological University, Belgaum. An MBA graduate from Bharathiar University, Coimbatore, NET Qualified (2012), with corporate and have academic work experience of over ten years. Undergoing Full Stack Data Science certification. Certified in Predictive Analytics and Data science using SPSS, R and Python in year 2016. Previously associated with Amity Global Business School (Bangalore), The Oxford College of Business Management, Standard Chartered Bank, ANZ.