ABOUT ISBR
ISBR Business School, one of the top business schools in India takes pride in creating an atmosphere wherein both students and faculty can pursue boundless knowledge, a single roof where theory and practice go hand in hand to present better understanding about oneself and the world around. Education at ISBR prepares you to think boldIy and act confidently in any business environment. At ISBR, the focus goes beyond education. ISBR aims to prepare students for life - Making them Leaders.
The success of ISBR as an acknowledged institution for quality learning is an outcome of the various facets that give ISBR its characteristic value - the faculty, enterprising students, infrastructure facilities and industry partnerships.
Unique Values
Uniquely developed programme structure that fetches you the desired career.
Designed and developed to impart managerial skills with sharpened domain specific knowledge
Implemented in association with globally accredited body
Mentoring sessions on career from Industry experts
LIVE interactions with Business leaders & Analytics experts
Workshops and training sessions in association with IIMs.
Career guidance and support through leading recruitment partners
The ISBR Edge
Electives taught by eminent faculty from Industry
Range of inspirational speakers from around the world
Extremely proactive student clubs
Mentorship by faculty and industry experts
Demographically diverse learning community
Dual specializations to make student multi-industry ready
Programmed to inculcate innovation,ethical values and nurture holistic development
Value added certification courses along with rigorous course structure
Exclusively designed course content at par with top international business schools
Awards & Accolades
ISBR's PGDM programme is accredited by National Board of Accreditation (NBA)
Platinum Institute (Top 3% of management colleges in India) AICTE-CII Survey, 2016, 2017, 2018
Best Education Brands The Economic Times, 2019
6th in India - Quality Campus Life 7th in India - Student Diversity Grand Jury Awards, Education World, 2019
Ranked in India's Best B School Category Dalal Street Journal
Awarded National Championship for Entrepreneurial Activities
National Entrepreneur Network (NEN) Awarded Best B School of the year Public Relations Council of India (PRCI)
Awarded Management College of the year in Global Exposure – Higher Education Reviewer
Awarded Exemplary Placement Award – Discovery Education
Awarded Best Business School of the Year – Public Relations Council of India (PRCI)
ABOUT PROGRAMME
PGDM with Global Immersion-offer the students opportunity to perfom in a globalized organization. Future managers will face challenges of presenting their product/service offerings to international audiences spread over diverse markets. They will need to understand the nuanced complexities of these places. Globlized companies will expect their managers to perfom in a cross- cultural context. Further, the executive team members, connected in the digital space and collaborating on specific project needs, will require to sharpen their cultural sensitivity.
ISBR Global Programme promises to inculcate this attitude for a globalized platform. Corporates seek to diversity across markets reduce the impact of volatility of a single-market specific customer preferences and attendant consumption habits. Evidently, an educational Programme making ample provision for time being speed in globalized classroom setting becomes eminently relevant.
SPECIALIZATION
Students of these programmes can choose any specialization of their choice from Major and Minor specialization pool. The curriculum of each specialization designed in consultation with experts from industry and academia to ensure that it is contemporary and industry specific domain skill sets.
Major Specialization:
HR | Finance | Marketing | Operations
Minor Specialization:
Health Care Management | Retailing & Supply Chain | Business Analytics | Sports Management | Travel & Tourism | Information Science | International Business | Banking & Insurance | Small Business Management and Business Enterpreneurship (SBM&E)
ISBR Offers 3 Professional Certifications along with Global PGDM
1) PGP in Data Scientist
A Data scientist is the top ranking professional in any analytics organization. Glassdoor ranks Data Scientists first in the 25 Best Jobs for 2019. In today's market, Data Scientists are scarce and in demand. As a Data Scientist, you are required to understand the business problem, design a data analysis strategy, collect and format the required data, apply algorithms or techniques using the correct tools, and make recommendations backed by data.
A Data Scientist is a professional who extensively works with Big Data in order to derive valuable business insights from it. Over the course of a day, the Data Scientist has to assume many roles: a mathematician, an analyst, a computer scientist, and a trend spotter
Data Scientist is one of the hottest professions. IBM predicts the demand for Data Scientists will rise by 28% by 2020
ISBR PGP in Data Scientist encourages you to master skills including statistics, hypothesis testing, data mining, clustering, decision trees, linear and logistic regression, data wrangling, data visualization, regression models, Hadoop, Spark, PROC SQL, SAS Macros, recommendation engine, supervised, and unsupervised learning and more
The skills focused in this programme will help prepare you for the role of a Data Scientist
2) Advance Certification in Digital Marketing
This Advance Certification in Digital Marketing course gives you an advanced Knowledge and in-depth understanding of the eight most important digital marketing domains. Skills you will learn in this Advance Certification in Digital Marketing
Develop an in-depth understanding of top-of-mind digital marketing functions such as inbound marketing, paid marketing, social media marketing, and web analytics
Become competent in planning, managing, and executing integrated multi-channel campaigns
Lead digital marketing teams and digital marketing initiatives for your organization
Understand how digital marketing disciplines all work together and how to optimize your use of each one
3) PGP in Data Engineering
Data engineering is a highly variable, big-tent field with a primary focus on developing reliable mechanisms or infrastructure for data collection.
Gain insights on how to improve business productivity by processing Big Data on platforms that can handle its volume, velocity, variety, and veracity.
Master the various components of the Hadoop ecosystem, such as Hadoop, Yarn, MapReduce, Pig, Hive, Impala, H Base, ZooKeeper, Oozie, Sqoop and Flume.
Become an expert in MongoDB by gaining an in-depth knowledge of NoSQL and mastering the skills of data modeling, ingestion, query, sharding, and data replication
Learn how Kafka is used in the real world, including its architecture and components, get hands-on experience connecting Kafka to Spark, and work with Kafka Connect.
Get a solid understanding of the fundamentals of the Scala language, its tooling and the development process.
Identify AWS concepts, terminologies, benefits and deployment options to meet the business requirements.
PROGRAMME STRUCTURE
Managerial Economics
Financial Reporting, Statements and Analysis
Organizational Behaviour
Management Process, Organization Design
Business Statistics and analytics for decision Making
Indian Ethos and Ethics
Computer Application for business
Business Communication
Term - 1
Corporate Finance
Marketing Management
Human Resources Management
Operations Research
Research Methodology
Operations & Supply Chain Management
Business Environment
Managerial Skill and Effectiveness
Term - 2
Corporate Strategy
Enterpreneurship
Specialisation 1:

Paper - 1
Paper - 2
Paper - 3

Specialisation 2:
Internship & Viva Voce (10 weeks)
Finance
Security Analysis & Portfolio Management
Financial Derivatives & Risk Management
Financial Econometrics/Project appraisal & Financing/Behavioral Finance & Wealth Management
Marketing
Consumer Behaviour & Product Management
Integrated Marketing communications & Retail Management
Digital & Social Media Marketing / International Marketing
Human Resources Management
Human Resource Planning & Development
Compensation & Performance Management
International HRM
Operations Management
Supply Chain & Logistics Management
Operations Research Applications
Sourcing Management
Management of Manufacturing Systems
Business Analytics
Predictive Analytics
PYTHON
Banking & Insurance
Corporate Banking & Retails Banking
Law & Pratice of Insurance
Health Care Management
Health Care & Social Policy
Health Care Economies & Finance
Information Systems
Software Engineering Management
Data Management Techniques
Travel & Tourism
International Tourism
Eco Tourism & Event Management
International Business
Intemational Trade Policy & WTO
Intemational Economics
Small Business & Enterpreneurship
Small Business Marketing
Financing of Small Business
Programme Structure of 3 Professional Certifications
PGP in Data Scientist
ISBR Data Scientist programme includes 15 capstone real-life, Industry-based projects on different domains to help you master concepts of Data Science and Big Data
Advance Certification in Digital Marketing
The students will be exposed to 39 digital marketing tools extensive project experience to make you job-ready
Data Engineering
This Big Data Engineer Certification programme includes 10 real-life, industry-based projects on different domains to help you master concepts of Data Engineering, such as clusters, Scalability, and configuration.
Selection Process
Students are assessed as per their academic accomplishments and co-curricular activities, for a career in IT industry, students are required to have excellent communication skills along with high competency in aptitude, logic solving abilities ease with handling numbers etc, which is mandate for securing admission in ISBR.
The aspirants need to go through the following process before their admission confirmation at ISBR
Application Form
Online tests
Personal Interview
Duration
2 years Full time consisting of four semesters
Eligibility
Any graduate with a minimum of 50% in the qualifying examination
Entrance test for qualification
MAT / CAT / CMAT / XAT / PGCET / ATMA / ICET & any other state entrance test
Students Testimonial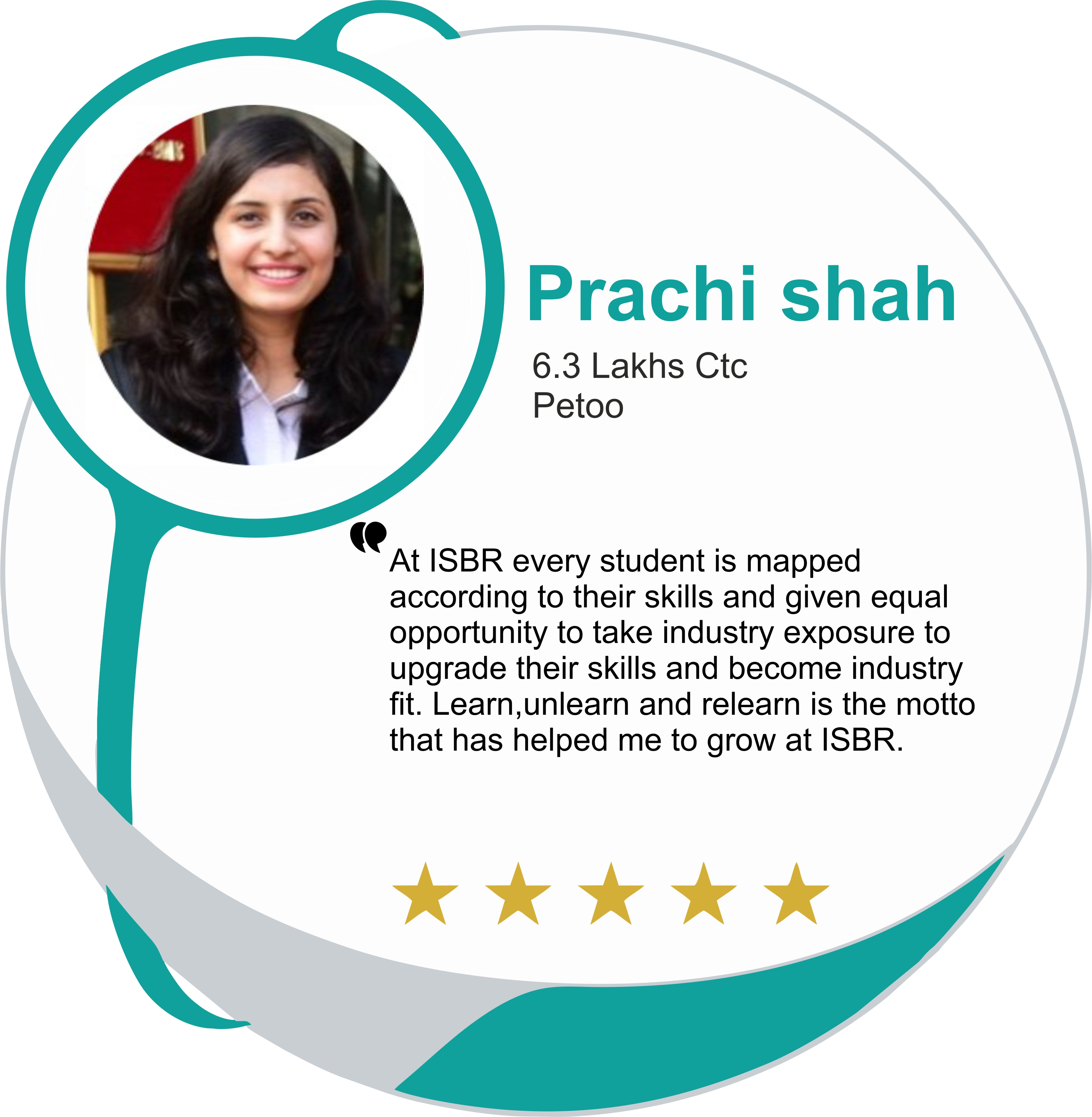 Watch the below videos to know more about ISBR and what our students have to say.
Placement Excellence Report
The Department of Placements at ISBR Business School operates on a win-win model for its stakeholders. Through Skill Capital (Internship Fair) and Talent Connect (Placement Drive), ISBR Business School sets up a platform for students and industry to explore and fulfill mutual aspirations. Having been rated by AICTE-CII for three consecutive years as "Platinum Institute" which places ISBR Business School among the elite 3% of Indian management colleges not only stands as a testimony to the strong and unparalleled collaborations the ISBR Business School enjoys with the Industry but is also a reflection of the amount of trust and confidence that the corporate world bestows on ISBR Business School and its students.
180+
Companies for Placements
25%
Referral Placements through Alumni
15+
Sectoral Respresentation
Fee Table:
Fee Structure & Payment Schedule for PGDM with Dual Specialization + 3 Professional Certifications + International Study Trip
| SL No. | Particulars | Amount | Payment Schedule |
| --- | --- | --- | --- |
| 1 | Registration Charges | ₹50,000 | Non-refundable. To be paid within 48 hours upon acceptance of the Provisional Admission Offer made |
| 2 | First Installment | ₹2,50,000 | Within 1 month from the date of acceptance of Provisional Admission Offer |
| 3 | Second Installment of Tuition Fee | ₹3,30,000 | 16th August 2020 |
| 4 | Third Installment of Tuition Fee | ₹6,35,000 | 14th August 2021 |
| 5 | Total Amount | ₹12,65,000 | Macbook Air Charges, 3 Professional Certification & International Study Trip charges are included in Fee |
Hostel Fee
Refundable Hostel Security Deposit-₹ 2O,OOO
Hostel Accommodation with Food per year- ₹ 1,4O,OOO
Registration charges to be paid within 48 hours upon acceptance of the Provisional Admission Offer made
Alumni fee of ₹ 2000/- and Convocation fee of ₹ 2000/- Paid Extra
Examination Fees will be as applicable
The offerings, delivery, recognition and infrastructure may vary based on the choice of the campus / fee structure / course.
For refund details, refer the refund policy of the Institute.
Hostel rooms are allotted on first serve basis.
Fees can be paid using any of the following payment options:
A. Demand Draft drawn in favour of "ISBR Business School" payable at Bangalore
B. Debit card/Credit card
C. Net Banking or RTGS/NEFT. Account details are as under
Bank Name : ICICI Bank
Account Name : ISBR Business School
Account Detials : 193701000106
IFSC Code : ICIC0001937
Branch Code : 1937
Swift Code : ICICINBBNRI
Branch Address : Electronics city (Infosys Branch)
About Us
ISBR Edge
Executive Education
Placement
Admission
Faculty
Quick Links
Contact Us