We believe in making our students ambivert who can face any situation and thus, we use to conduct various sessions for our students to learn about different things. On 21st September 2021, ISBR conducted a C-Talk and the speaker of this event was Mr.CK.Kumaravel, who is the founder of the most famous chain of salons is Naturals.
He is a man of brilliance and vision. During the meeting, he shared his thoughts on business and he also gave insights on the characteristics of an entrepreneur. He said that ideas and speed are the currency of the 21st century. If a person owns two of these he will be able to get rich. He gave the example of his father who invented the concept of sachets in India. Wherever we go across India we can see sachets hanging in the provision store. So that concept was devolved by his father. His father had the vision of bringing even the costlier product available to the poor. With this vision, the sachets were bought into reality. This gives us the idea to form opportunities wherever possible.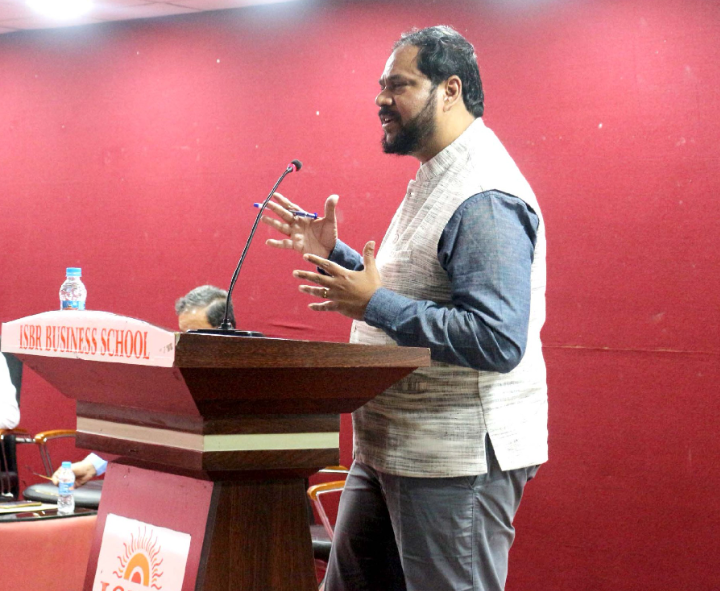 He quoted the example of two brilliant entrepreneurs, one is Jack Ma and the other one is Dhirubhai Ambani. Both of them had their dream and started their business. From the story, the key takeaway is to Dream big and start small.
He said that one man can make a difference, by quoting Gandhi as an example. What job we do does not matter but how we do matters a lot. Our entry into this world can go unnoticed but the exit out of this world should not go unnoticed. For that, he told every one of them to work hard.
People who discuss do not decide, people who decide do not discuss. This quote was said because whenever an idea is told to people first they will reject the idea. In this world, most of the ideas which are now of greater importance were all once rejected. One such example given was of Alibaba.com, he added that people will say you cannot because they cannot it.
For achieving that he gave us the concept of a Ph.D. Where P stands for Passion, H for Hunger, and D for Discipline, by following this we can stay on track-focused.
PASSION- Passion is what keeps the entrepreneur interested.
HUNGER- keeps the entrepreneur motivated all the time
DISCIPLINE- keeps the entrepreneur on track.
There are 4 types of discipline which the speaker talks
Time discipline
Personal discipline
Financial discipline
Professional discipline
He also talked about naturals, how he started it after failing in the herbal Shikakai business. The idea came to his mind when he realized that there were no middle-class saloons available. At that point of time back in 2000, there were only two types of the saloon. One was a local saloon which was unhygienic and unclean and the other one was the saloon in five-star hotels which was too expensive for anyone to afford. So, he thought of filling this gap and started Naturals. He said irritation is the billion-dollar opportunity. Whenever someone gets irritated then there is a bigger opportunity hiding behind and that should be utilized. He is also planning to support 1000 women entrepreneurs as he has supported his wife. He said he has seen so many women who can do anything but they don't believe in themselves. A woman can change the world if she decides to. He ended his speech by saying about two important dates in everyone's life. The first is the day when we were born and the second is the day when we realize why we are born.
As a token of love and memory, our Director Dr.Y. Lakshman Kumar presented a personalized memento to Sri C. K. Kumaravel. The eventful program had a picture finish with a group photograph in our amphitheater.
"There are only two important days in your life. The day you were born, and the day you
realize why you were born".