??????? ????? ????? ??????? ???? ????????? ?
??????????? ?????????? ????? ????? ??? ????? ?
These golden lines mean: knowledge gives discipline, from discipline comes worthiness, from worthiness one gets wealth and from wealth one does good deeds and from that comes joy.
Even the VIHANG (bird) needs a strong base and strength to soar high in the air. Once it gets that required trigger there are no leaps and bounds, it can explore the "GAGAN" like legend.
In this VUCA world, it's necessary to soar high but one must know his/her limits as it takes just a moment to fall into a dungeon where it would be impossible to bounce back again.
"ISBR" is the platform which imparts 'Vidya' through excellent teachers, 'Vinaya' through its rules and regulations, 'Patrata' by imposing its core values, 'Dhana' through placements and 'Dharma' by encouraging CSR activities.It shapes and makes the VIHANGs to soar high in their lives and transform them into responsible and respectable citizens of this country.
It has been just a fortnight that ISBR has started its batch of PGDM 2017-19 with great pomp and energy. These two weeks of introductory sessions, industrial visits, workshops etc. seemed nothing less than a long lasting festival. To add colours and to make this feast more remarkable, the sparkling faces of MBA 2017-19 started marking their entry and it's time to give them a grand welcome in ISBR way. As always, it's the new bunch of students (PGDM 2017-19) who gained enthusiasm in this short span and took up the responsibility to welcome their fellow mates in this garden where dreams turn to reality.
In the presence of esteemed guests, the auditorium was filled with joyous and a pleasant aura. It was an honor to have Mr. K. Raghu (Member, Board of International Federation Of Accounts USA, Past President Institute of Charted Accountants, India) as the chief guest. We had Sri Muralidhar Halappa (Chairman, Karnataka Skill Development Board), Dr.P M Bhansali (CMD Bhansali Group, PDG Rotary International Dist. 3190), Sri Subhash Chandra Reddy(MD,  Sangeeta Mobiles) and Mr. Ranjeet Solanki( President Rajasthan Cosmo Foundation Trust ). Along with them, we had star invitees from SHRM, Springwell, Aarusha Homes, Robsoft Technologies and Samosa Singh. Alumni Invitee Smt. Arunima Salopal along with ISBR dignitaries with Mr. Manish Kothari(MD –ISBR), Dr.K.S. Anandram( Senior Director, ISBR), Dr. C Manohar (Dean-ISBR), Dr Chandra Niranjan( Dean, Finishing School-ISBR), Dr.T.Karpagam(Director Academics- ISBR) and all the faculty members marked the presence and added flavour to the gathering.
Dr. Anand Ram formally inaugurated the batch and gave an enthusiastic speech. He shared his views on how ISBR differentiates and stands out among other Premium B School which produce thousands and lakhs of graduates. He also expressed his happiness as ISBR is associated with Mysore University since its beginning and is contributing in generating quality oriented graduates since then. He explained the importance of '3Es' (Employment, Empowerment and Enhancement) in one's successful career. He recalled Dr. APJ Abdul Kalam's Words," dream is not something that you see when you are asleep; it's something that will not let you sleep!" He continued" ISBR is there to realize your dreams as it is a process oriented Institute. Results are by product of following our process." He assured that ISBR will transform the students in two years.
Followed by Dr. Anand Ram, Dr. C. Manohar as always took the hall to a humour mode and delighted the environment with delight. He advised the students to run behind the excellence to make the success run behind them. Further Dr. Chandra Niranjan took over the stage and shared her views about how Pre master's Program proved useful in inculcating the desired qualities amongst the students, how it boosted the confidence of the students before starting their first step 'on-campus'.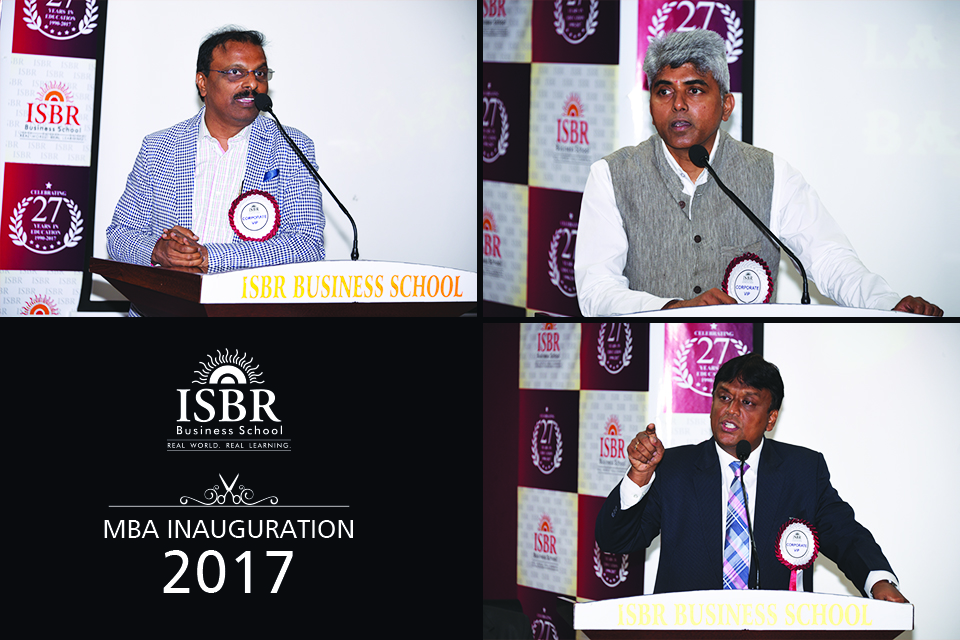 Chief Guest K. Raghu has shared his experience of Harvard University visit and gave important inputs on how using technology in today's world is utmost necessary. He advised students to get updated with the current happenings like GST. He also emphasised on how to cope up in this corporate world. He said, "In management profession we have to be at par with the modern technologies, as management professional we have to bring good corporate regime."
He then concluded by giving success formula: Hard work, humbleness, set your goals; chase your dreams.
Urging students to keep themselves update by learning new skills, Guest of honour Muralidhar Halappa said, "Skill the youth during their studies irrespective of their background." He expressed that his learning of management capabilities came through Mr Jai ram Ramesh ex union minister. He connected with the government school children in the audience by speaking in kannada and pushed the desire to accomplish their goal. He closed his speech by stating "Make your mother's dream to reality." He also expressed his desire to collaborate with ISBR to promote short term skill development courses.
Sangeeta mobiles owner, Mr.Subhash Chabdra Reddy took the opportunity to share his life events and experiences and also the 43 year old journey with Sangeeta. He was glad to share his bonding with his father, his brand and told how the transformation took from Gramophone to Cell Phone.
Mr.Manish Kothari thanked every guest and said, "This is an auspicious day and a day of great learning, where leaders from corporate, government, IITs, IIMs gave their useful sights and influenced the young minds with positive tone." He then encouraged the students to ignore the black dots (weaknesses) and advised them to emphasise on white portions in the papers of life. He further advised them to develop an attitude like the 'Garden-cutter" who calls his owner in as a new cutter and finds pride to know that the owner is completely satisfied by his work. Mr. Kothari wanted all the students to go for this form of self-appraisal and improvement. He concluded by saying "Think every day as Inauguration day and show the same energy and enthusiasm with full zeal for 365*2 days, that day would not be so far when you would be able to bring out a completely transformed being from you."
Dr.Karpagam, then formally concluded the event by giving vote of thanks which was followed by felicitation of guests, star invitees, faculties etc .which was further concluded by national anthem and delightful lunch.
This inaugural function cradled the parents and gave them the sigh of relief and also an assurance that their wards are in right hands at this juncture of life. They were esteemed to leave their stars in this 'AKASHA GANGA', where in the knowledge flows in the pure form and purify the souls of the stars which in-turn make them shine brighter. This day has set a platform and created a base for the new birds to fly the first flight in their lives. Thus, one can say that with the arrival of twin brother VIHANG the family of ISBR 2017-19 is complete. ISBR wishes both VIHAAN and VIHANG (PGDM and MBA) a happy and prosperous stay on this auspicious day and also hope that they both work together with proper guidance from seniors , staff & management of ISBR to make this place 'GHATIKA STHAANA'(place of knowledge) and 'BHOOLOKA SWARGA'(Heaven on earth).
– SRIDHAR DARBHA (PGDM 2016-18.)
Vinayaka B.S (PGDM 2017-19)
( Members of Writers & Media Club)
---