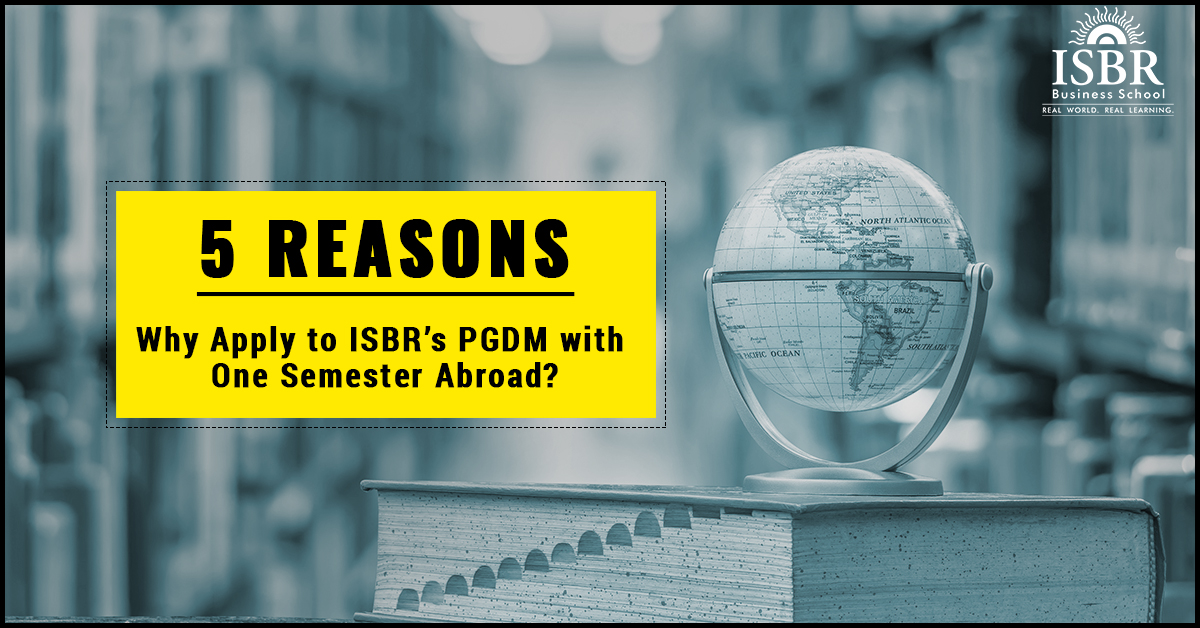 Participation in a PGDM with one semester abroad program is more than an academic adventure. It's an experience that can change your life and career path.
The two-year PGDM one-semester abroad program is a pioneer course in many respects. As a niche program, it brings to the forefront the intricacies of doing business with several countries. Thus, understanding the cultural exposure and global perspectives of other economies form a major learning objective. This 2-year full-time course is AICTE, Ministry of HRD, Govt. of India approved, offering four exciting semesters formulated within the international context. Under this program, you have an option of undergoing one semester in the partner foreign University under the students exchange arrangement. During the course of this study, you will be taken on various corporate & academic tours, thus providingan understanding of how global corporate work.
So, why should you apply to ISBR's PGDM with one semester abroad program in Bangalore?
Here are 5 reasons why you should.
Quality Standards
Approved by AICTE, Ministry of HRD, Govt. of India, this program acts as a standard for quality excellence. Employers will find value in knowing you are graduated from a school that uses the same standards as those used by businesses across the globe, and others to recognize excellence.
Global entrepreneurial mindset
The PGDM program with one semester abroad has been designed to equip students with the knowledge and skills required to successfully compete in a globalentrepreneurial world. Starting with the fundamental concepts of business, the program enables you to appreciate the application of theory in practice through case studies, simulation exercises, an internship project and other fascinating modes of learning.
Industry Interaction
Interaction is the only way for progressive generation of ideas. ISBR therefore endorses a strong belief that practice should meet theory across all functional areas. A steadfast interaction with various facets of the Industry and learning under American, European & Asian professors will generate a progressive thought process in your minds. ISBR on its part will include guest lectures by various Industry representatives to inculcate the Industrial facets of the curriculum. The course shall also entail Industrial visits by the students so that you can gain a firsthand experience of the Industrial front.
Read more about the MBA/ PGDM Students International Study Tour to Singapore and Malaysia.
Coveted International Partners
You can have a selection of acclaimed international institutes to choose while undergoing one semester abroad such as HOCHSCHULE HOF University, Germany, Groupe Esc Clermont Ferrand, France Groupe ESC Troyes, France and BEM International Business School Bordeaux, France. While the foreign immersion programs offer an eye-opening experience for the students, this course will let you spend an entire semester abroad while learning the nuances of trade, commerce, industry, economics, life, and society. The Semester Abroad program is a step in that direction, where you can opt to study a semester of the course in a different country.
A Better Job Prospect
Earning your management degree from an accredited B-School like ISBR prepares you better to competefor the best jobs. The belief in student-centric approach with innovative and creative teaching will ensure that you gain the right skills. Also, learning through sharing of best practices in business education, will also add to your expertise. Close links with business and entrepreneurial initiatives helpyou to gain practical experience and network with employers. ISBR ensures that your business degree will give you the skills you need and the employers want.
Besides the above benefits of enrolling in the course, studying in the best PGDM program in Bangalore will also offer you:
Studying in a No. 1 New Generation B – Schools of India by DM B-School Survey
Career opportunities for Corporates
Career breaks in top MNC's like Infosys, Google, Microsoft & more
Placement Cell for career guidance
Highest percentage of placement records
Excellence in scholarship, training & service
Strong Alumni network
Learning through case-studies, exchange study, interaction with fellow faculty, students & executives
Total personality development
Skill enhancement with core management learning activities
Choice of Marketing, Finance, HR, IT, Systems, Banking, Insurance, Retail, Health Care Service, Telecom making you industry ready
A great cosmopolitan culture
On completion of this course, you will be able to:
Demonstrate an understanding and knowledge of the theoretical, analytical and practical aspects of management strategies.
Critically evaluate theories related to the development of staff, including crucial factors in the development of people management, including ethics, culture, and change.
Be proficient in developing international-level strategy, incorporating and considering currency, cultural and competitor risk.
Develop appropriate research and analysis techniques, alongside the ability to undertake reliable market research activities.
Operate, lead and collaborate with a team to solve problems of a practical (experimental) nature and to provide appropriate solutions.
Apply appropriate presentation and evaluation tools to establish the significance of research data produced.
At ISBR, we are committed to delivering a modern university experience to all our students. Apart from experiencing the thrill of travelling to a completely new location, we ensure that our students get to the very core of how management takes place at various working setups in those countries. This program gives them an experience which is unmatched, in terms of global exposure and lateral thinking.
Education at ISBR is indeed an experience to be cherished. Know more about the course here. Enrol today, admissions open for 2018.
---